There's nothing like a warm bowl of soup during the winter, especially on the cold, dreary nights we sometimes experience in Charlotte. Choosing a soup with the right ingredients can provide your immune system with a nutrition-packed boost to help fight off viruses during cold and flu season. Vegetables, legumes, and whole grains in soup are a good source of fiber, which makes your meal more filling. Vegetables are full of nutrients that strengthen your immune system. Choose broth as a base rather than cream to limit the amount of saturated fat in your soup. By making your own soup at home, you can control the amount of sodium and saturated fat to make a healthier soup for your family. Below are four recipes for healthy, delicious soups that I love to make.
Quinoa Veggie Soup
This soup is a favorite in the Charlotte Nutrition family. It's a great way to get your family to eat their vegetables. It also freezes well. If you want more protein, you can add rotisserie chicken.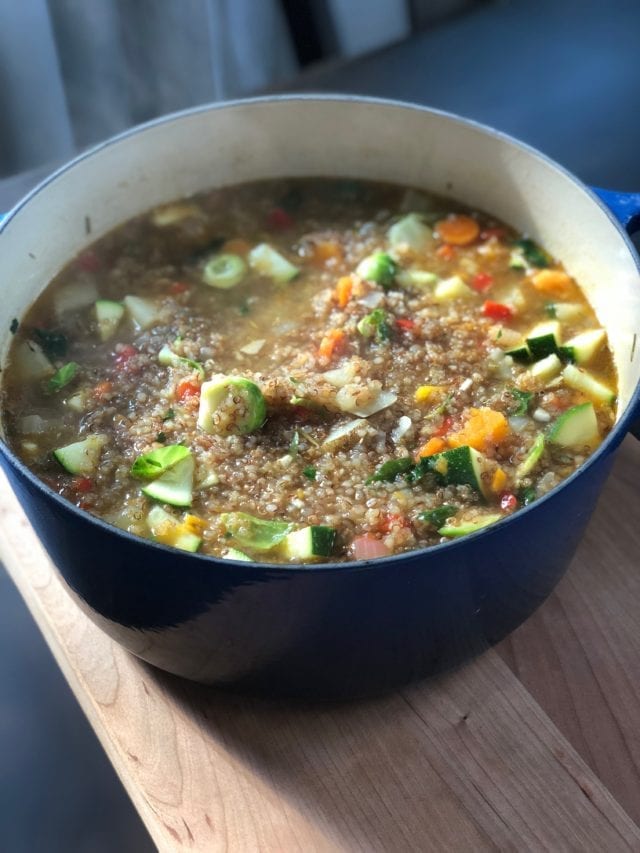 Ingredients:
1 cup uncooked quinoa

2 tbsp olive oil

1/4 cup diced white onion

1/4 cup diced carrot

4 cloves garlic, minced

1/4 cup diced red bell pepper

1 tsp rosemary, sliced

1 tsp ground cumin

1/4-1/2 cup diced russet potato

1/4-1/2 cup diced peeled sweet potato

1/2 cup diced zucchini

1/2 cup thinly sliced Brussels sprouts

1/4 cup roughly chopped flat leaf Parsley

1 tbsp kosher salt
Directions:
Preheat oven to 325F. Spread quinoa on a baking sheet and place in oven, stirring every 10 minutes until browned, about 30 minutes. 
Heat a large stockpot or dutch oven over medium. Add olive oil. Once olive oil is heated, add garlic, onion, carrot, and red bell pepper. Cover and cook until vegetables are tender, about 10 minutes, stirring occasionally. Check every few minutes to make sure vegetables are not browning; if they are, turn down heat. Uncover and stir in rosemary and cumin for about 1 minute. Add chicken stock, quinoa, potato, and sweet potato. Turn heat up to high until boiling. Once boiling, cover and reduce heat to medium, cooking about 12 minutes. Stir in zucchini and Brussels sprouts, cooking until they are tender, about 2 minutes. Stir in parsley and salt. Serve warm.
Green Veggie Soup
This recipe is adapted from Sugar Salted. The cashews in this soup are totally optional but greatly improve the consistency of the soup and are a great source of healthy fats to help fill you up.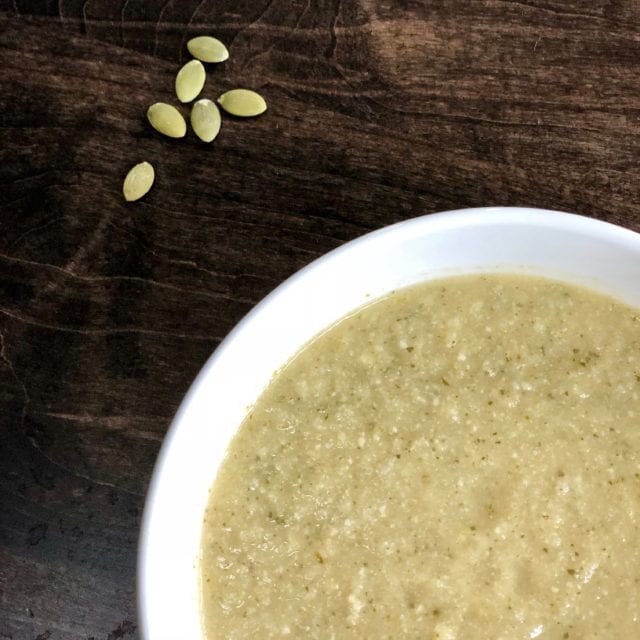 Ingredients:
2 tbsp olive oil

1 medium onion, finely chopped

1 large leek, white parts thinly sliced

1/2 tsp kosher salt

1 tsp dried thyme

12 oz. bag Brussels sprouts, ends trimmed, yellow leaves removed, sliced into small disks

1 large head of broccoli, cut into florets

1 large head of cauliflower, cut into florets

6 1/2 cups vegetable stock

Leaves from 1 small bunch parsley, roughly chopped

1 cup raw cashews (optional – improves consistency of soup)
Directions:
Cut the root and dark green parts off the leek. Cut in half lengthwise, then fan out and place under running water to get rid of dirt lodged in deeply. Thinly slice the white part of the leek and place in cold water, agitating to dislodge any remaining dirt. Set aside.
Heat olive oil over medium-high heat in a large saucepan or dutch oven. Once oil is warm, add onion and sauté for about 1 minute, stirring occasionally. Remove leeks from water and add, along with salt and thyme, stirring occasionally and cooking until the leeks are soft, about 4 to 5 minutes.
Add the Brussels sprouts, broccoli, and cauliflower and stir in with leeks for about a minute. Add vegetable stock – it should just cover all vegetables, so you may need to add more or less stock than recommended. Turn heat to high, cover, and bring to a boil. Once boiling, lower the temperature to medium-high and keep covered. Cook for about 20 minutes, stirring occasionally.
Remove from heat. Add cashews and parsley, then re-cover for several minutes. Using an immersion blender, puree soup until smooth. Season with salt and pepper if necessary. Serve warm.
Lemony Red Lentil Soup
This recipe is adapted from this New York Times recipe. This soup is high in fiber, which feeds our healthy gut bacteria and strengthens the immune system.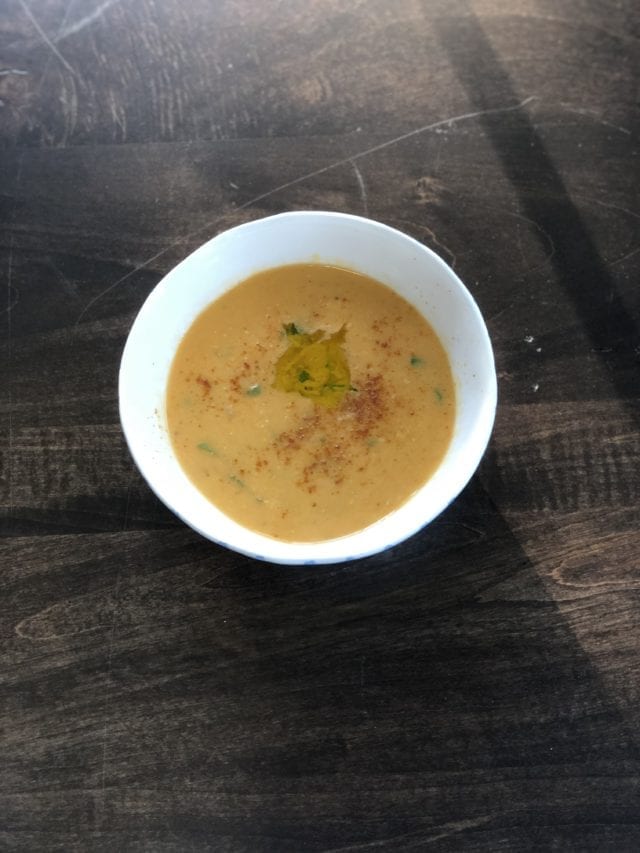 Ingredients:
3 tbsp olive oil

1 large white onion, chopped

2 garlic cloves, minced

1 1/2 tbsp tomato paste

1 tsp ground cumin

1/4 tsp kosher salt

1/4 tsp ground black pepper

Pinch of cayenne pepper

1 quart chicken broth (or vegetable broth if vegetarian)

2 cups water

1 cup red lentils

1 large carrot or 5 baby carrots, peeled and diced

Juice of 1/2 large lemon

1 tbsp chopped fresh cilantro
Directions:
Heat olive oil over high heat in a large saucepan or dutch oven. Once hot, add onion and garlic, then sauté, stirring to prevent burning, about 4 minutes until golden. Add tomato paste, cumin, salt, pepper, and cayenne pepper, stirring until mixed well. Sauté for about 2 minutes.
Add broth, water, lentils, and carrot, then bring to a simmer. Cover the pot most of the way (put the lid on but leave a small crack for steam to escape) and turn heat to medium-low. Simmer for 30-35 minutes, until the lentils are soft.  Puree the soup with an immersion blender to your preferred consistency, either leaving some chunks or pureeing until smooth. Add lemon juice and cilantro, then stir. Taste and add additional salt if necessary. Serve warm.
Enjoy these nutrition-packed recipes? Sign up for our newsletter on our home page or book an appointment with Charlotte Nutrition's registered dietitian nutritionist to receive more delicious recipes and help reaching your nutrition goals.